Da sempre alcuni fratelli di diversi clan osservano in disparte le sanguinose lotte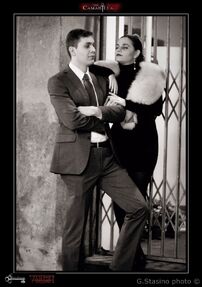 tra le sette, preferendo non legarsi a nessuna delle due, rimanendo così liberi da ogni restrizio­ne. Indipendenti.
Questi Fratelli appartengono a famiglie o culti antichi e potenti. Lottano solo per se stessi, ed è estremamente raro trovare Fratelli Indipendenti tra le fila delle due grandi sette, poi­ché essi sono soliti disprezzarle, imponendo le loro proprie leggi, usi e costumi delle zone dove dominano, ignorando quelle dei due grandi schieramenti, quando possono. I clan Indipendenti sono: Assamiti, Giovanni, Ravnos ed i Seguaci di Set
Ad blocker interference detected!
Wikia is a free-to-use site that makes money from advertising. We have a modified experience for viewers using ad blockers

Wikia is not accessible if you've made further modifications. Remove the custom ad blocker rule(s) and the page will load as expected.